After owning a couple of cheap merchandise insulated travel mugs, Jens Dittmar convinced me to spend a couple of euros on a "professional" travel mug. (In the end I convinced my boss to buy a bunch of mugs for the whole team as a christmas present so I didn't have to buy one myself 🙂 )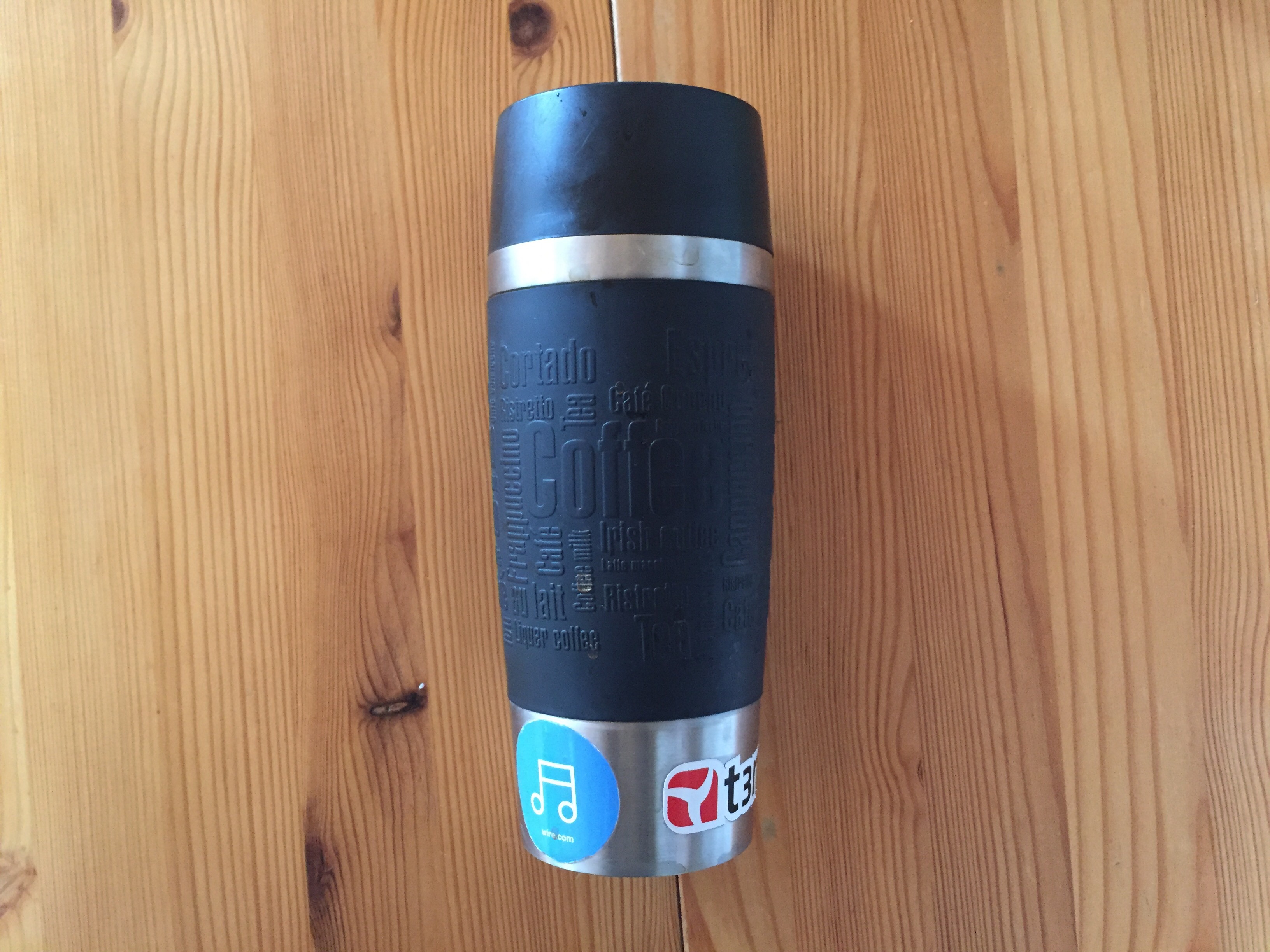 After using the mug for one and half year I can say that it really improved my life quality. Suffering from stomach-ache I tried to reduce my filter coffee intake and switched to espresso from a Bialetti stovetop mokka cooker. By using the travel mug I could enjoy my yummy espresso which I cooked at home at work the whole morning, too. As I started to go to barcamps the mug also saved lots of paper cups.
Marketing claims
What I was really interested in -from an engineering standpoint- was to prove if their claim "4 hours hot – 8 hours cold" was valid or not.
Ok, so the marketing claim is a bit wishy-washy – what is hot and cold? Wikipedia seems to differentiate between a hot drink and a warm drink at around 60° C. For cold let's assume that an ideal temperature of a cold beverage is below 10° C like in the door of a fridge.
To measure the temperature I used the Fluke 87 True RMS Multimeter with the thermocouple probe. The room temperature is around 24°C.
Hot for 4 hours?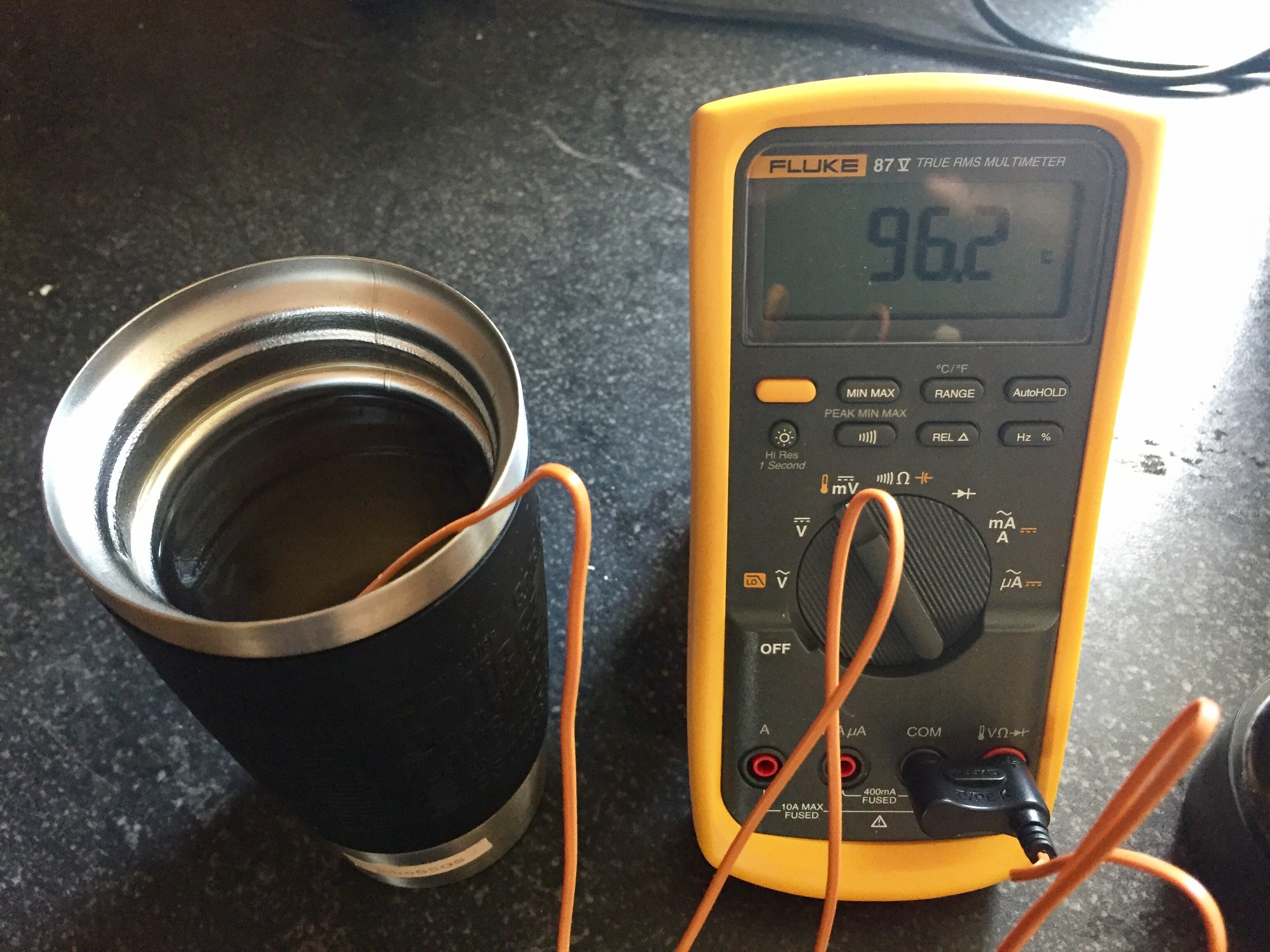 I filled the mug with hot water at 96°C to its recommended filling level, closed the cap and set the timer to 4 hours. And waited, and waited ?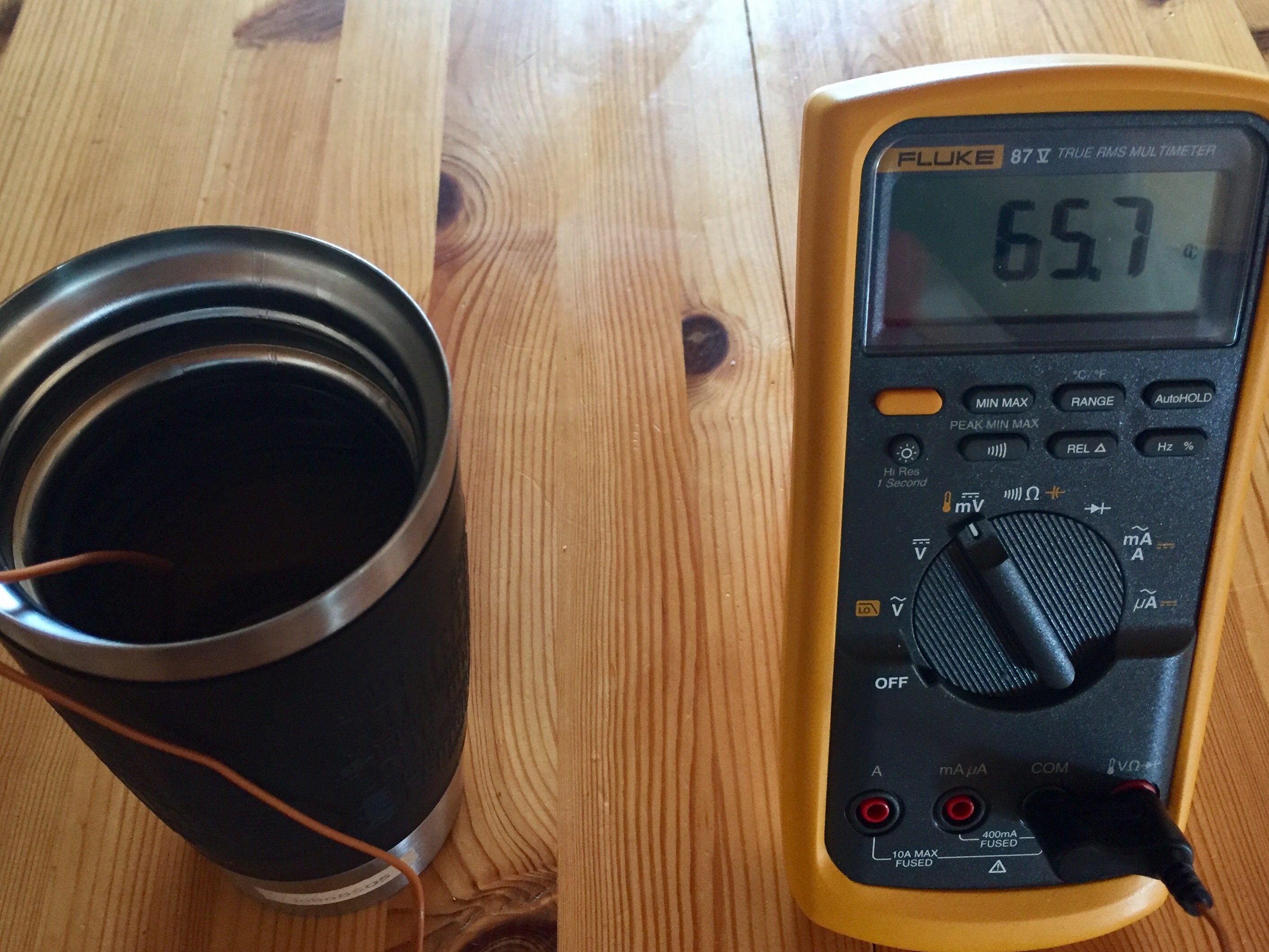 Voila! 65,7°C . Very impressive, still 40° above room temperature.
And now to something completely different:
Cold for 8 hours?
To test this claim, I filled the mug with water and ice cubes.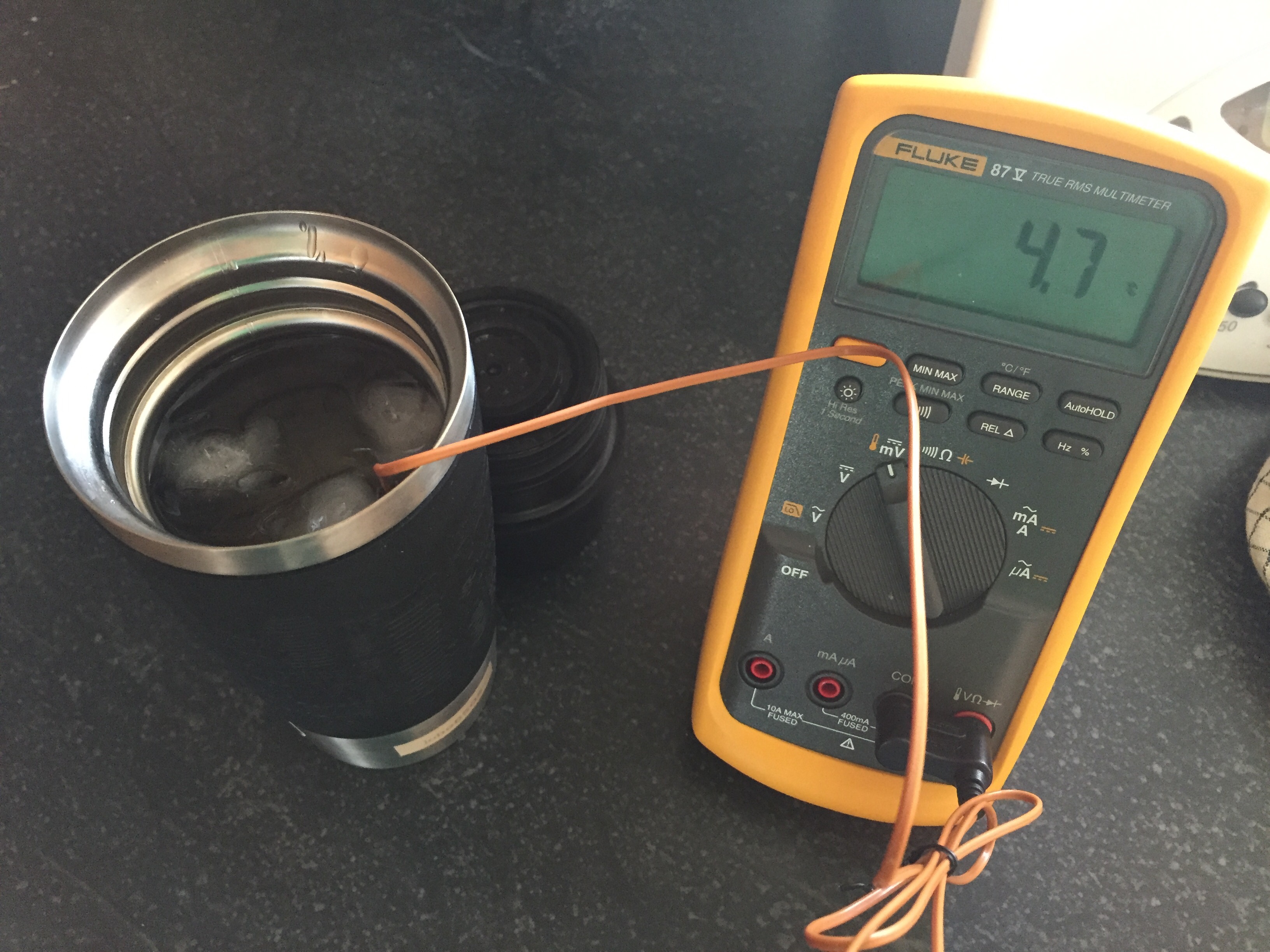 And again, waiting for 8 hours this time, it really surprised me: spot on 10°C. Not too shabby ?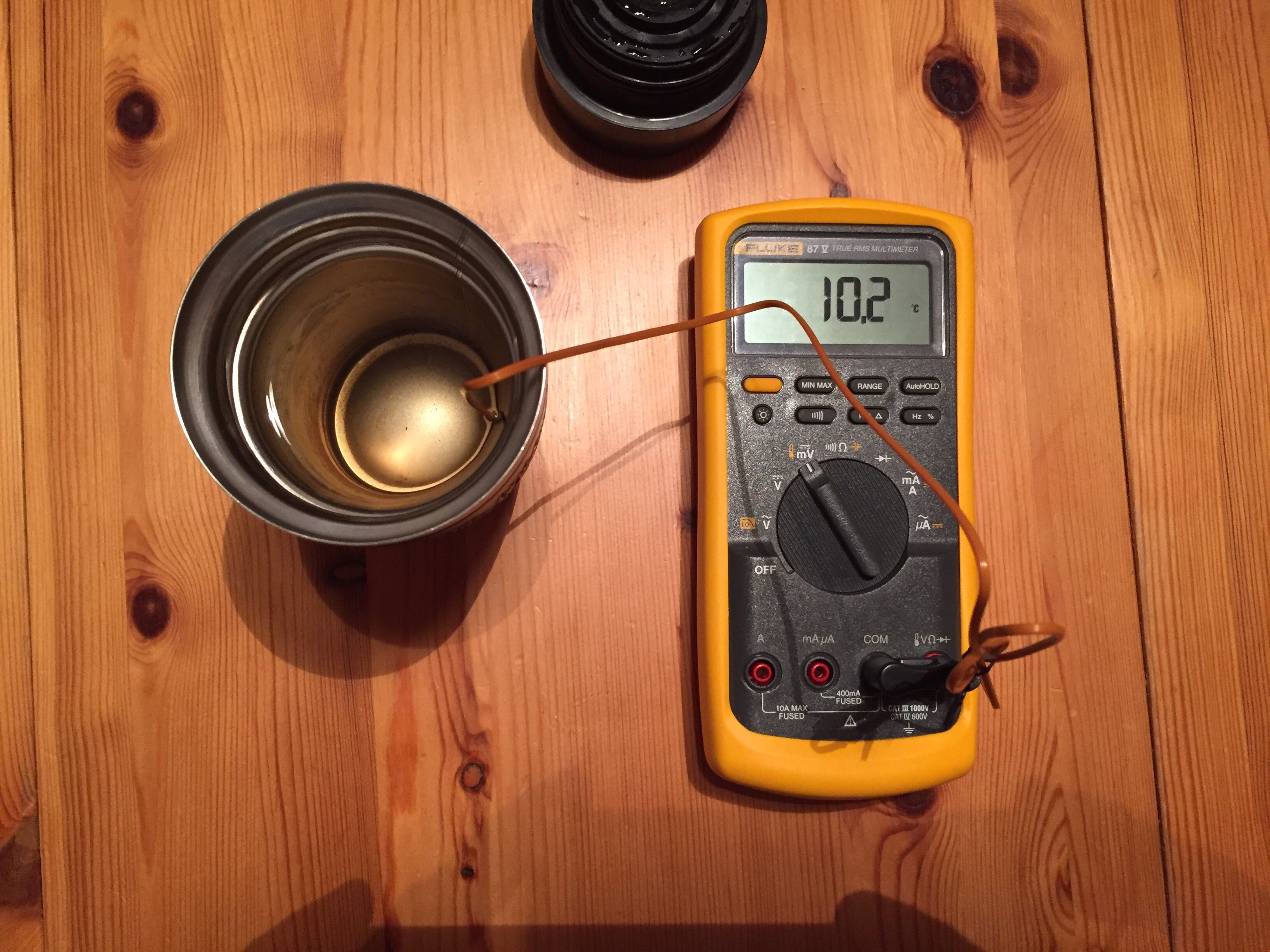 Conclusion
Honestly this test was a bit extreme because you normally wouldn't put boiling respective ice cold water into the mug and don't open the cap for the whole time. Nevertheless to have a real world test setup you have to consider your drinking frequency, the kind of drink, the filling level, etc. etc. This scenario was just to show that this mug insulates really really well. Other especially cheaper mugs from my experience get hot on the outside and lose the temperature within an hour.
So, if you are looking for a travel mug which really works, you can stop searching here and buy the Emsa!
Emsa Travel Mug on AMazon US (Affiliate Link)
Emsa Travel Mug on Amazon Germany (Affiliate Link)
Emsa Travel Mug 0.5 Liters on Amazon (Affiliate Link)