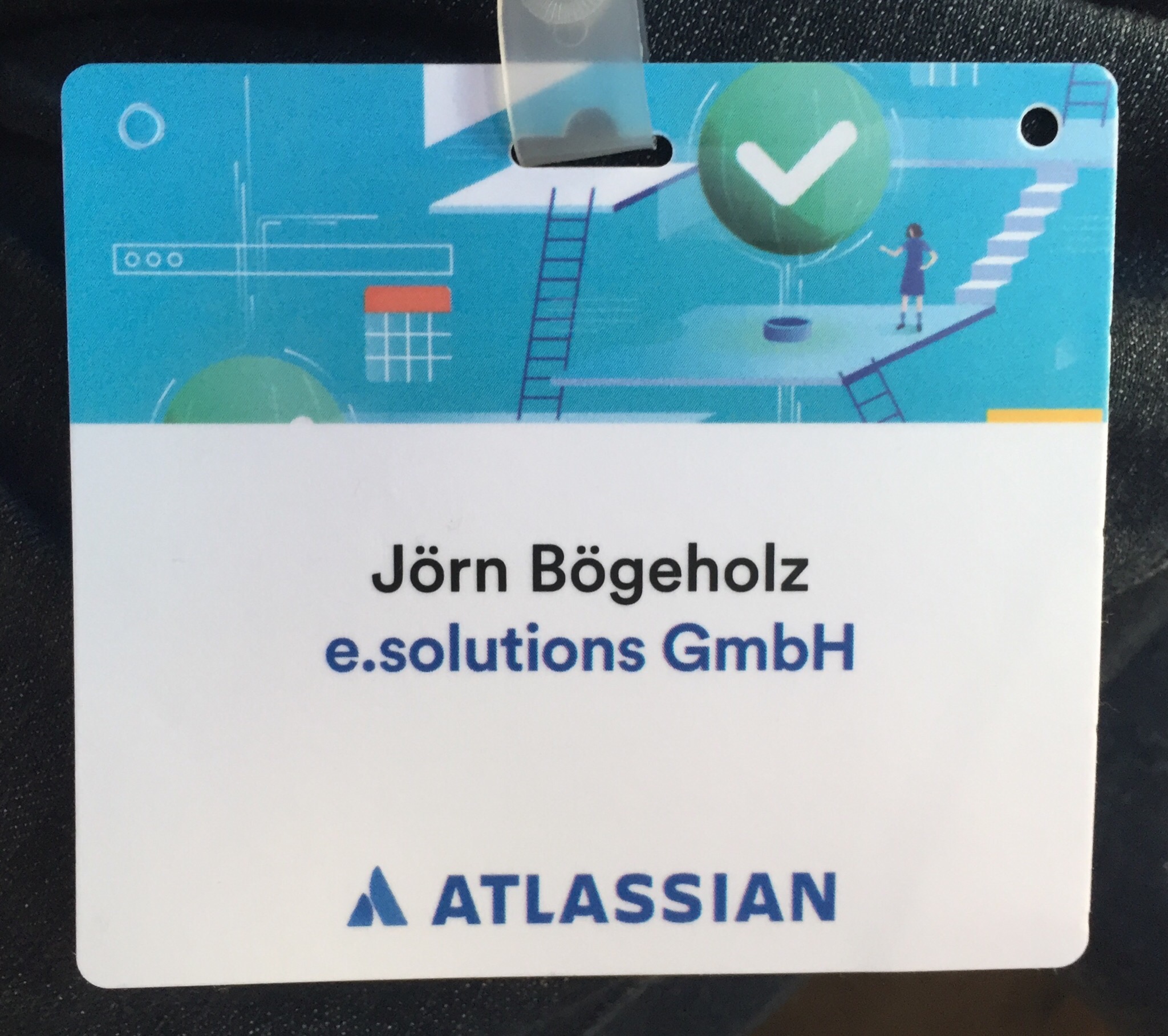 What can You expect from a day when you are awake at 4am after just 5 hours of sleep still dealing with headache and a cold? Actually a lot 🙂
Thanks to my wife I attended -against all odds- the Atlassian Roadshow "Agile Evolution in Companies" in Nuremberg, on November 14th 2017
Location
The event was hosted at KORN'S GmbH in Nuremberg near the central railway station, so I decided to go by train. When traveling Deutsche Bahn on short distances without having to change trains it is quite comfortable. No need to search for parking spaces, reading during the ride is nice as well and in my case it was less expensive and faster than going by car.
Catering
A nice variety of snacks and beverages, good coffee and an OK lunch was provided.
Sessions
Robert Panholzer moderated the event in a very humorous way. With lots of anecdotes and practical wisdom he went through his slide deck. Basst scho!
In his opening talk he addressed the Atlassian's core values
Open company – no bullshit
Play as a team
Build with heart and balance
Be the change you seek
Don't f*** the customer
What is culture?
Space and Time
Cool buddies
Awesome Tools
Main takeaway: Magic happens when You leave your comfort zone!
Digital next
This talk was given by Konstantin Böhm the CEO of Ancud IT. It was quite confusing and I couldn't figure out what the message should have been.
Driving teamwork at scale
Junie Dinda  Head of server marketing at Atlassian talked about the challenges of teamwork. Her recipes for successful modern team work are
Drivers of change
Location
Innovation
Employees
Main takeaway: Atlassian Health Monitor
DSGVO
Friedrich Schraml talked about the changes to the Bundesdatenschutzgesetz in Germany.
Main takeaway: The possibility to model a complete HR recruiting process including hardware order and account creation via IT department in Jira was a feast for the eye.
Premier Support & Technical Account Management
The next session was clearly the sales part. Christian Glockner and Feico Mol introduced these concepts with which Atlassian addresses customers whose business processes are heavily depending on Atlassian Tools.
Main takeaway: at a certain point in time you cannot rely only on selling tools but have to offer services as well.
TechDocs + Enterprise + Team: geht nicht? – Aber Hallo!
Michael Merwald of BMW showed us how he and his team reworked the technical documentation process for dealers and workshops.
Main takeaway: versioning / base lining and variant handling in confluence.
Scroll Versions Plugin for Confluence
Running Globally with Atlassian
In the last session Rolf Eckardt of Adidas showed how he introduced some Atlassian tools at his company.
Main takeaways: using net promoter score for internal change processes. The sharepoint connector and "Panta Rhei".
Bottom Line
In Germany the saying "What costs nothing is worth nothing" is common but often quite the opposite is true. It was especially not true for this event, I would have payed for it as well. A great chance for networking: I discussed with colleagues from e.solutions about our change processes and challenges, met my former boss Christian Winkler (check out his new company datanizing) and some former co-worker from mgm technology partners. Thanks to Semi Kefi for the invitation