About the Author
Chad Fowler is best know for being CTO of 6Wunderkinder after its exit to Microsoft. Before he was Senior Vice President of Technology at LivingSocial.
The Book
Fun fact: the first edition of this book was titled "My Job Went to India: 52 Ways To Save Your Job"
Fowler found this title misleading: instead of improving from mediocrity to keep your job, he wants you to focus on becoming exceptional and staying ahead of the pack. On 199 pages he shares his expertise in 5 key areas:
Market, Product, Executing, Marketing and Maintaining your edge.
Every chapter is written as a two to four page "tip of the day"-like essay.
That's right down my alley because you can digest every tip piece by piece as loo-reading.
When You read a chapter in the morning before getting to work you can easily ponder upon its content all day long.
The best part is the "Act on it" section at the end of a tip which should lead you to applying the things you've just read about.
For example drawing a map of technologies on today's market and segmenting them into early, middle and late adoption stages.
This is what I drew: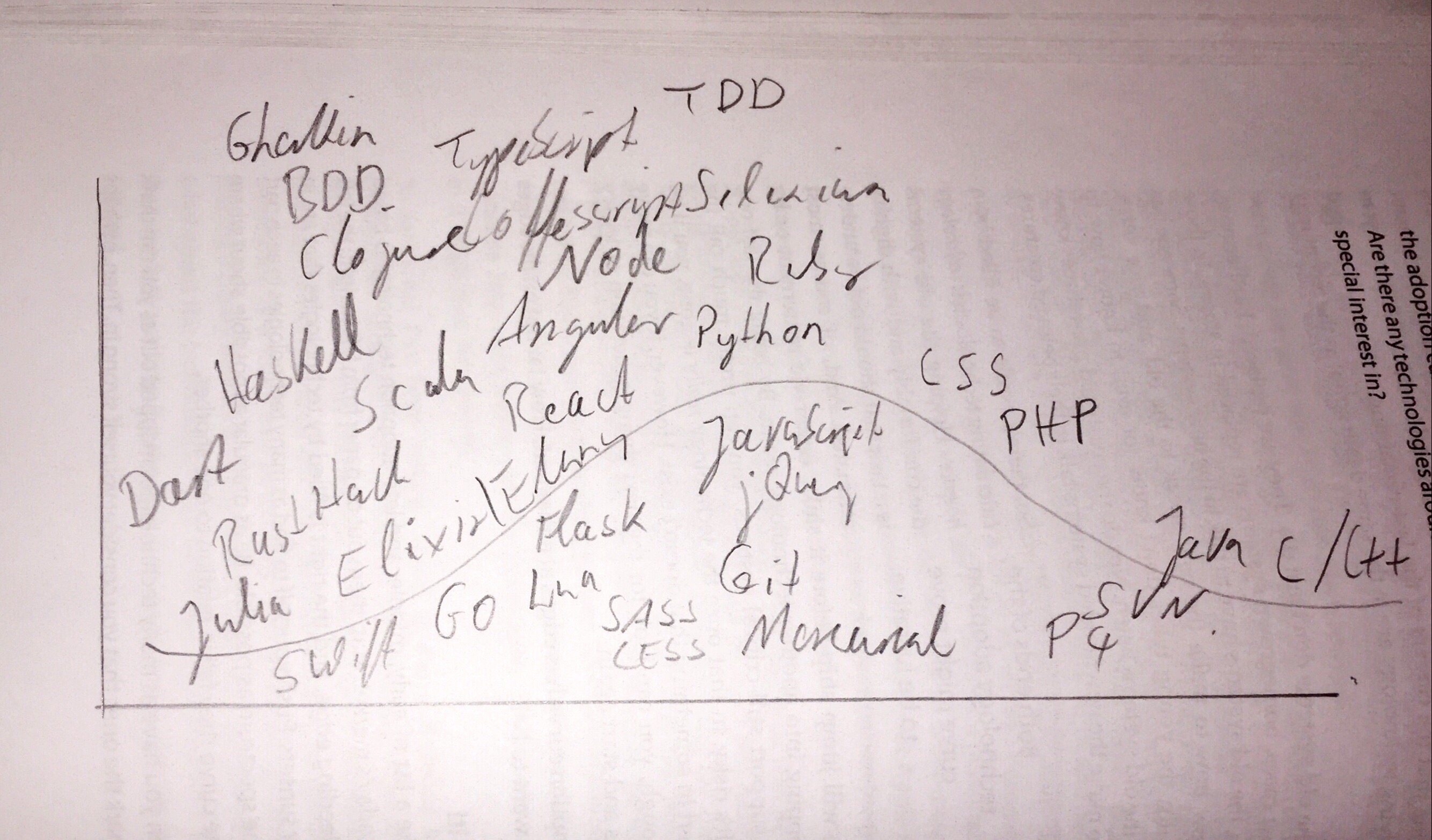 Main Takeaways
The author seems to know the concept of P.I.E, that career success is based on the 3 key elements of Performance, Image and Exposure.
Fowler is trying to help you creating your personal brand and communicating your skills to others.
Many tips come from the background of software craftsmanship and agile mindsets like "Practice, practice, practice" and "Eight-Hour Burn" and concentrate on improving your coding skills.
E.g Act on It from Tip 5 "Learning a new programming language" let me to put Rust as a language on my resolutions list.
But the bigger chunks are definitely not about coding but deal with learning domain specific knowledge, structuring your know how gathering and growing you personally to be a better developer.
All tips are so diverse that it isn't possible to shrink the message of these 53 chapters down to 7 +/- 2 bullet points so perhaps it's a good idea to read this book a couple of times.
The whole book was fun to read and definitely got me started to think about not accepting the status quo but improving on a day to day basis.
What actions did I take?
Besides renewing this weblog I visited the SWEC16 conference and started to learn Rust. I also bought a whole bunch of books to widen my expertise in different areas and I subscribed to the printed magazine of http://t3n.de